São Brás de Alportel is 40 minutes' drive north of Faro, the capital city of the Algarve which hosts the region's airport. You can hire a car at the airport and drop it off near the airport at the end of your stay and the hire car company will bus you to your flight.

The drive north is relatively easy and there is no need to worry about stressful motorway driving the minute you start your holiday! You will be supplied with details of how to get there when we receive your final payment for the house and our Agents, Ian and Mags will be at the cottage to greet you on your arrival, to show you around and answer any questions. A complimentary welcome pack with refreshments and basic supplies will await you at Casa Violeta.

As previously mentioned, there are many hiking and biking trails around the area and surrounding man-made lakes are ideal spots for family picnics. We have provided cold boxes and picnic cutlery, crockery, and parasols in case you want to go off and explore....but remember your hats, sunscreen, insect repellant and plenty of water! For lovers of flora and fauna there are many interesting plants and herbs, wild animals and in particular this is a popular spot for birdwatchers.

There is a house laptop at the cottage and we have included several websites on the favourites bar which we hope will help you to pick and choose your expeditions. There are also maps and books on what the Algarve has to offer for you to browse, as well as suggestions and directions for local restaurants.

For further information regarding travel to and from Faro please click on the link at the foot of this page to the comprehensive and very useful Faro Airport website.

There is also a link direct to a website describing São Brás de Alportel, including maps, etc. at the bottom of the page. This website also describes all the other towns, beaches, golfcourses and sporting opportunities in the Algarve.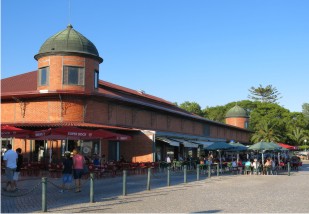 Olhao Market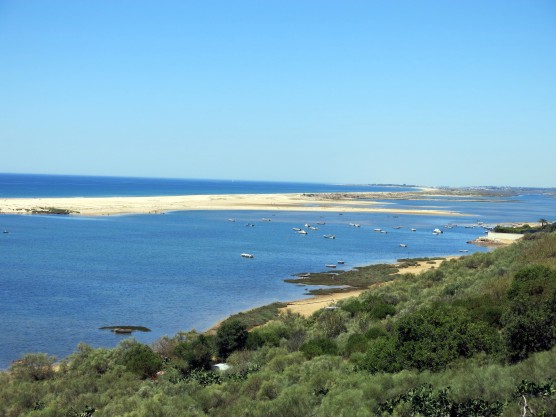 Fabrica from Cacela Velha
Places we would recommend to visit would include (going East to West) Seville in Spain, approximately 2 hours drive. Located on the Guadalquivir River, it offers beautiful architecture, tapas bars, restaurants, parks, boat trips and much more;

Cacela Velha is a picturesque little town with wonderful views over towards Fabrica where there is a lovely restaurant called "O Costa"

Tavira, near the Spanish border is a beautiful town on the coast on the Guadiana River;

Santa Luzia, a pretty fishing village which has a small train to take you across the marshes to the lovely Barril Beach (although you can walk if you prefer);

Olhão, closer to home, is a fishing port and hosts a stream of fish restaurants and fabulous fish, meat and vegetable markets where you can shop and then enjoy a drink overlooking the port; you can also get a boat to one of the islands (Culatra, Ilha de Farol, etc) where there are more outstanding beaches;

Ilha de Faro is by the airport and accessed by a small bridge (where there can be delays in the summer) is also worth a visit for restaurants and beaches;

Vilamoura, Quinta do Lago is the more expensive area with its world famous golf courses;

Silves is a historic Castle town; and of course Sagres, the most westerly town in Europe.

But this is just a tiny personal selection and there is so much more.......
Please click this link for information about Sao Bras de Alportel and other Algarve towns
Please click this link for information regarding horse riding locally
Please click this link to information regarding local buggy excursions
Please click on this link for information about Faro Airport
Please click on this link for information about Faro Airport
Please click on this link for information regarding golf club hire at Faro Airport